Your Fulfill Engine account will not automatically be set up with this feature. If you are interested in utilizing either gift codes or discount codes, reach out to us directly at info@fulfillengine.com.
There are a few instances where discount codes will be beneficial. The first would be if you are setting up a gift store. This would be when your customer would like to billed in full for the product vs the end customer.
Another popular reason would be if you would like to extend a one time use gift card or even a general percentage off.
Whatever the need - we have you covered!
---
What is the difference between a gift code and a discount code?
These two options offer very different access. A gift code is unique. It acts similar to a gift card allowing you to extend a specific dollar amount. You also have the ability to set up a gift code to give a person access to select a single item from either the store as a whole, or within a category.
A discount code does not have a limit. This would be your general percentage off the entire order.
---
Using gift codes and discount codes within your account
Once it is confirmed your account has access to gift and discount codes, you will see the feature available on your account dashboard under orders.

When you go into gifts, you will see how many total unique codes have been created for your store. As well as you are able to see which are pending (not yet redeemed), redeemed and partially redeemed.
Omitted from the below preview, you will also have access to view the recipients name, email address, who created the code, and when the email with the code was created. In addition, you have the option to create an expiration date, but it is not required.
To create a gift, you will select + Create gift and input the details.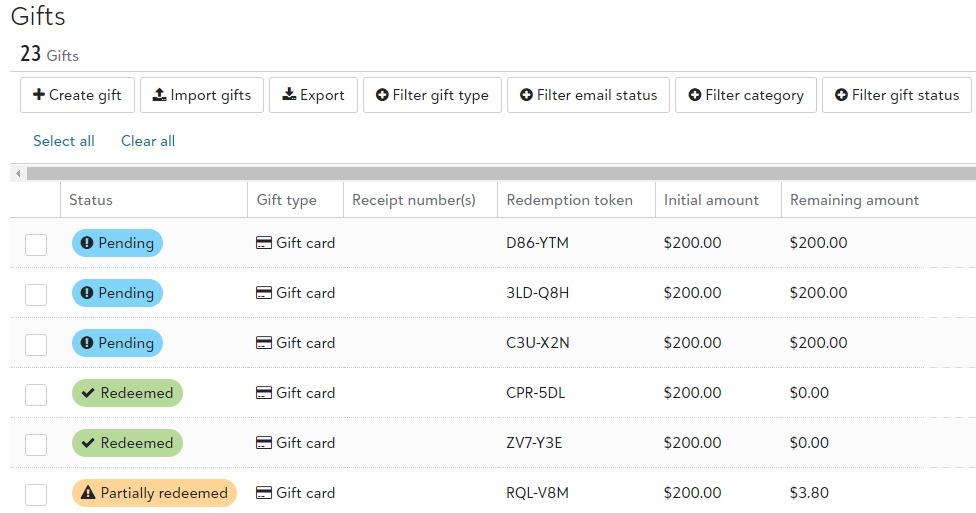 It is a more simplistic process when creating a discount code because it can be used more then once. From your dashboard, under Orders, you will select Discount Codes. Selecting +add the below prompt will allow you to input the discount details, either reducing by a dollar amount, or by a percentage.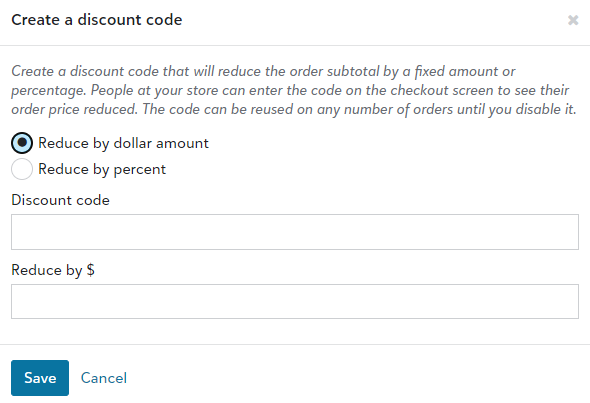 ---
Revoking a Gift Code
You have the option to revoke a gift code, or gift card, that is still in "Pending" status. To do this, navigate to your Gifts tile and select the gift code(s) you are wanting to revoke. To easily locate a gift code, use the search option to find the Recipient name, Recipient email address, or Redemption token.
Once selected, an option to Revoke gift will be available at the bottom of the page.
Any gift codes that are Partially redeemed or Redeemed are not eligible to be revoked.
---
Disabling a Discount Code
Gift codes are unique as they do not have a set limit as a gift code would. This means that you may want to have a set amount of time you are willing to have the discount code available.

To disable a discount code, navigate to your Discount codes tile and select the discount code you are wanting to disable. Select the three dot dropdown to the left of the code and select Disable.
Learn about how payments for gift / discount codes are handled
here
.