This feature is currently only available for DTG, DTF and engraving.
Easily offer customizable options such as department name, employee name, or number!

In the below example, we are going to walk-through the process of adding a name and number to the back of a garment for a team store.
---
First, you will follow the same steps to build a product.
Once your item and colors have been selected, to add customization, you will select Custom, located on the left hand side of your product building dashboard.
Ensure you select the location of the customization (Front, Back, Left sleeve, or Right sleeve) to the right of the mockup, then select to +Create new customization.
---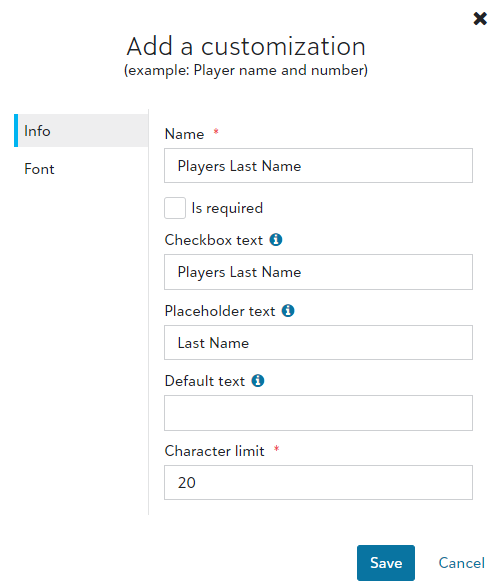 The Info tab is where you will input the customization details. This is what will reflect to your end customer and give guidance as to what they are customizing.
You also have the option here to make the customization required.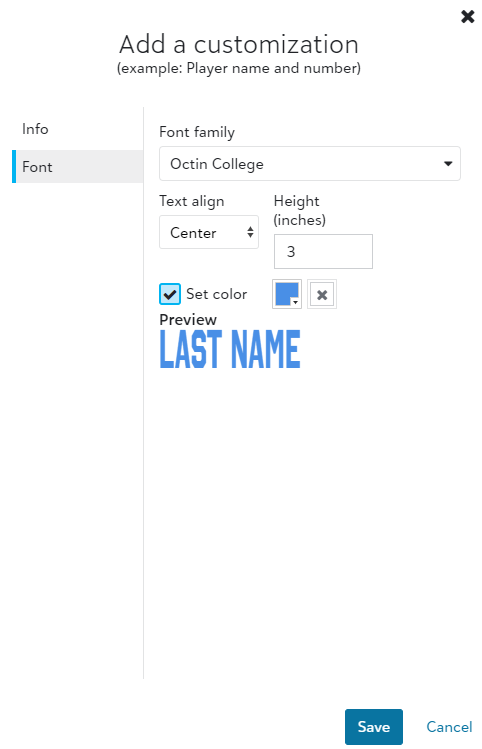 The Font tab is where you will select the requested font for the customization as well as the placement, defaulted height, and print color.
Since this is tied directly to a design ID, you are able to offer different print colors based on the garment color by nesting the products.
If there is a font you need, but do not see, reach out to us with the requested font at info@fulfillengine.com.
---
Repeat the process to +Create new customization as many times as needed. Once you have all the customization options built, you then have the ability to move and place the customized option(s) within the available decoration boundary box on the mockup.

Following the same process of building a product, you will then create and name the product. Once created, you will see a tag confirming the product Has customization.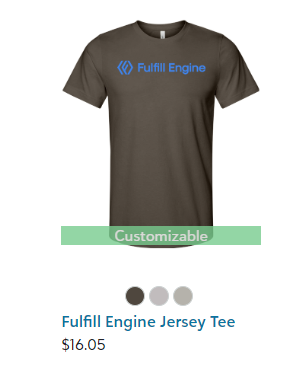 This tag transfers to the front end, and alerts your customer of their ability to customize!
---
If the option to customize isn't required, your customer will simply select which customization they wish to add, which will then allow them to put in the text, and view the mockup in real time before adding the item to their cart.